Webdesign
CMS, content management, easy, graphic design, search engine optimisation, SEO, usability, webdesign, website
Websites that are easy to find in Google, completely tailor made, and above all easy to use: we've been doing just that for over 15 years! Soon for you too?
Easy to find: Google, social,...
We make sure your website can easily be found in Google, and quickly on top of that. This is embedded in the code your website is built with, and interwoven in our CMS MySite. MySite also silently helps you with automatic sitemaps, correct redirects, etc.
Do you want to refine to, for example, very specific target groups? We can help you to set up advertising campaigns through e.g. Google Adwords. Links to Social Media (such as Facebook & Twitter) are also included as standard.
Your website will be easy to find, we do not doubt it! The websites we already created prove that point!
Easy to use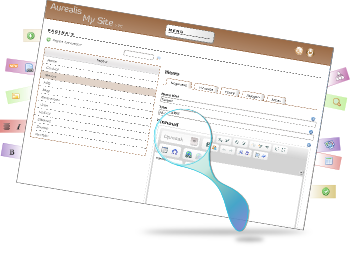 Websites should be easy to use, no matter how large they are. It should be possible for everyone to manage them. We make that a reality every time: we have heard several times from both customers and external partners that what we make is so easy to use.
We frequently innovate in that area. Example? On websites created by Aurealis people will never have to type over unreadable characters, or select cars, traffic lights or bikes, to be able to complete a form. And yet our customers do not get more spam in their mailboxes... Simplicity, but especially power!
Don't believe us? We would not either, everyone says this.
But only a few do this: request a demo! Without us being there to overlook and influence you!
Original webdesign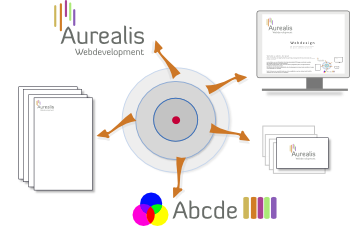 For every project we create a webdesign to your specifications: we start from your corporate identity, your wishes, and craft an attractive, original and user-friendly concept. That is then finetuned together with you. Not just templates, or print-design.
No logo or corporate identity yet, we can create it for you, if you wish. That makes it extra easy for you: only one point of contact. Even printed matter, graphic design and lettering can be created.
Refined, and innovative
We finish off every website to the last detail: good-looking (and recognizable) mails to your visitors, correct display of non-standard characters like €, ë, é and à, error pages in the layout of the website, optimized source code for the website,...
In addition, we keep up with all trends: in responsive web design, where the website adapts to the screen size of the user, we pioneered, our captcha solution is another example. In addition, we consciously choose cloud servers to host the websites and mails. There are many more examples, feel free to ask.
For every budget
Most customers choose for a website with the Aurealis MySite CMS, so they can easily manage their site themselves. We actively encourage that choice, because we know they can do just that with Aurealis MySite.
Some clients however choose to let us manage their site for them, because they know we do that as if it were our own website. Quickly, thoroughly, and without extra costs.
Still others just ask us for a landing page: a very small website, just one page, to support another website. Or just because they do not need any more.
More info about our Aurealis MySite websites, or about our mini sites and landing pages.
With the very best service available
Launching your website is just the start of the journey, the beginning of a (new) online adventure. We support you for the full lifetime of your website!
For example, we keep monitoring your website, both automated and manually. We detect errors (both programming errors and e.g. wrong links you may have made) and repair them, we make sure your website and mailbox don't go offline because they take up too much space,...
This service is all included, no extra costs here. You have a question, ask away! We love to help you, every time again.
We notice our clients appreciate this most of all, and we are quite proud of that!